Collections Supporting Television & Film Studies at The University of Iowa Libraries include:
the current collection of archival materials, over 1,000 linear feet, from writers, directors, producers, actors, and others;
the current collection of published books, journals and microforms on television and film. The Libraries has one of the world's outstanding collections related to cinema, particularly pre-1940 printed books; books in languages other than English; and trade journals pre-1930.
exceptional strength in Japanese film journals;
exceptional strength in Chinese film;
copies of virtually all known Dada films.
The University's long tradition of academic excellence in film and television studies and the number of UI alumni who are active in the industry greatly strengthens the potential for developing a rich and diverse collection of TV and film materials.
Iowa's academic programs in television and film include strong programs that focus on all aspects of television and film studies from popular culture to script writing, editing and filming. Faculty in academic departments including Cinema & Comparative Literature, Communication Studies, American Studies, English, and Journalism and Mass Communication offer courses on television and film studies leading to undergraduate and graduate degrees. Courses range from production aspects of film and television, screen writing, film editing, broadcast reporting and writing to a number of courses on cultural issues related to film and television. Alumni of the Iowa Writers' Workshop and the International Writing Program have written film and television scripts and graduates, and graduates of the Theatre programs have had varied careers, from set design and acting to writing and directing.
The Samuel L. Becker Communication Studies Building includes two television studios, a video postproduction facility, a film sound stage, a scene shop, areas for animation and graphics production, a radio studio, and an advanced 24-track audio studio. Theaters equipped for 16mm and 35mm projection are also elsewhere on campus.
Motion Picture and Television Related Collections Held by the University of Iowa Libraries
The descriptions below permit an overview of more than 1000 linear feet of documentary materials. They are linked to inventories and other detailed information when either or both are available. Four of the collections were secured for the University in the 1960s by Raymond Fielding, then associate professor in the Division of Television-Radio-Film: the Robert Blees, Albert Cohen, Arthur Ross and David Swift papers. For an article on this acquisition, see Iowa Acquires a Touch of Hollywood. Special Collections also holds a number of unpublished screenplays.
ABC News Transcripts (9 feet), MsC 368. (Finding Aid).
Transcripts of ABC News broadcasts, January 1, 1970 to December 31, 1973.
Artists' Television Network (150 feet). (Finding Aid).
New York City's SoHo district was the national center for video artists in the 1960s. In 1976, exhibition facilities like the Kitchen, Global Village, and Anthology Film Archives joined with a number of individuals to organize Cable SoHo in an attempt to place video art on Manhattan Cable Television. Later that year, the Artists' Television Network (ATN) was incorporated as a non-profit organization. From 1978 to 1983, supported through funding from the New York Council of the Arts and the National Endowment for the Arts, ATN commissioned artists to create works for television cablecasting, provided production and post-production facilities, and paid expenses incurred during production. In 1988, ATN founder Jaime Davidovitch arranged for the transfer of 462 videos created by ATN to the University of Iowa.
Robert Blees Productions (5 feet). MsC 124. (Finding Aid).
Robert Blees (1918- ). Born Lathrop, Montana, educated Dartmouth College. American film and television script-writer and producer. From 1940, scenarist for Warner Bros. Formerly a Board member of the Screen Writers Guild, Executive Board member of Screen Producers Guild and Board of Directors member of the Producers-Writers Pension Plan. The collection consists of 16 boxes, (12 of written materials, three containing still photographs of motion pictures and one box of non-commercial sound recordings from soundtracks) as well as an oversized drawer. Most of the written material such as scripts, treatments, and fiction are by Blees. These include the screenplay for the remake of Magnificent Obsession and a number of scripts for the TV series Combat!, which Blees produced. There are also a number of scripts by other authors, including Joseph Stefano's screenplay for Psycho and the script for the original A Star Is Born. Miscellaneous materials include budget information, memos, correspondence, etc. The still photographs section contains stills from a large number of outstanding Hollywood films, mostly of the thirties and forties. The non-commercial sound recordings feature music from the television series Bus Stop and Combat! and musical arrangements from the motion picture Snows of Kilimanjaro. Included in the oversized drawer are miscellaneous artist renderings and photostats on the murder of Starr Faithfull, recreated by John O'Hara in his novel Butterfield 8 and played by Elizabeth Taylor in the 1960 film version.
Luis Bunuel Scripts (.5 foot). MsC 355. (Finding Aid)
Luis Bunuel (1900-1983): born Aragon, Spain. Outspoken international director who made Un Chien Andalou and L'age D'or, the two most highly acclaimed films of the surrealist movement. He subsequently worked in America and Mexico (where he directed a number of films, including Los Olvidados), as well as in France and his native Spain.  There are ten photocopied scripts in this collections; the titles include: Abismos de Pasion (1953), Cela S'apelle L'aurore (1956), El (1952), El Bruto (1952), El Rise y La Muerte (1954), La Illusion Niaja en Tranvia (1953), La Mort en ce Jardin 1956), Subida al Cielo (1951), Susana (1951), and Terre San Pain (1922).
Tom Chehak Papers (25 feet). MsC 744. (Finding Aid).
Television and film writer, producer and director. Papers document two projects: 26 episodes of Galidor, an action series for children sponsored by Lego Media International and the Disney network, and 13 episodes of Scout's Safari, an action-adventure series for young people set and shot in South Africa.
Patrick Sean Clark Papers (1 foot). MsC 508. (Finding Aid).
Sean Clark received a BA, University of Missouri, 1982, and earned his MFA in playwriting at the University of Iowa, 1988, winning several prizes while doing so. He has since been associated with critically acclaimed television programs of the past decade, writing for Northern Exposure and The Commish, story-editing for Coach and Evening Shade, and acting as a consulting producer on Sirens and Sliders and a supervising producer on Early Edition. He currently directs the Graduate Screenwriting Program at the University of Nevada at Las Vegas. The Sean Clark Papers currently consist primarily of scripts and screenplays for Early Edition and drafts of a screenplay, Black Irish, which has been optioned but not yet produced.
Albert J. Cohen Productions (33 feet). MsC 126. (Finding Aid).
Writer-producer whose credits include (as writer): Let's Live a Little (1948); (as producer): Unknown Island (1949), Horizons West (1952), Playgirl (1954), So This Is Paris (1955), etc. This large collection contains scripts in various drafts for a large number of films and television programs and a great deal of production material: budgets, shooting schedules, work orders, correspondence, cancelled checks, etc. It provides insight insight into the workings of a Hollywood studio in the 1950s and 1960s. A major sub-series is a studio story file, complete for a period of nine years and comprising seven boxes of material.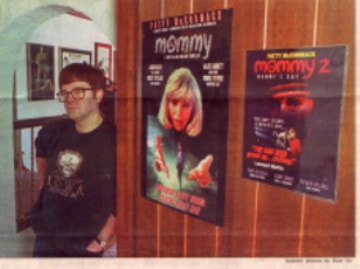 Max Allan Collins Papers (38 feet). MsC500. (Finding Aid).
Born in 1948 in Muscatine, Iowa, Collins took both undergraduate and graduate degrees in the University of Iowa Writer's Workshop. His M.A. thesis, Bait Money, became his first published book and has been followed by well over 50 others. He has twice won the Shamus Award from the Private Eye Writers of America. He also continued Chester Gould's Dick Tracy comic strip 1977-1993 and wrote another, Ms. Tree.
Collins has written a number of movie tie-in novels, among them Maverick, Waterworld, and In the Line of Fire and has written, directed, and produced three films, Mommy (1994) Mommy II: Mommy's Day (1996) and Mike Hammer's Mickey Spillane (1999). His papers, to which he adds materials frequently, are fully open for research.
Photo: Buzz Orr for the Cedar Rapids Gazette.
Editorial Comments from Iowa Television Stations, 1965-1985 (4 feet). MsC 158. (Finding Aid).
Printed editorial comments from KCAU-TV Sioux City, IA, 1965-1985; KCRG-TV Cedar Rapids, IA 1974-1985; KWWL-TV Waterloo, IA 1874-1984; WHO-TV Des Moines, IA 1974-1976; and WMT-TV Cedar Rapids, IA 1974-1980.
Morgan Dawn Fanzine and Fanvid Collection (13.5 feet) MsC403. (Finding Aid)
Collection of fanzines and fanvids (fan-created montages of video clips from assorted media fandoms set to music) relating to numerous media fandoms, assembled by long-time fan writer and vidder Dawn. Movies and television shows included are Beauty and the  Beast, Blakes 7, Buffy the Vampire Slayer, Due South, From Eroica With Love, Lord of the Rings, Quantum Leap, The Sentinel, Stargate SG-1, Star Trek, Star Wars, Starsky and Hutch, Supernatural, The Wiseguy, and the X Files.
Morgan Dawn The Professionals Circuit Library and Fanzine Collection (7.5 feet) MsC439. (Finding Aid)
Collection of fanzines and items of fan fiction relating to the British crime drama The Professionals, including the print and digital contents of the fan-assembled 'Circuit Library'.
Don Farran Manuscripts (2 feet). MsC 600. (Finding Aid)
Farran (1902-1986) wrote poety, plays and stories and became State Director of the Historical Records Survey. In the 1930s, he was involved with WPA Federal Theater projects (see his "Recollections of the Federal Theatre"). This collection includes drafts of poems and stories but consists largely of scripts for Navy and Coast Guard training films dating from the mid-1930s to the mid-1950s.
Norman Felton Papers (63 feet). MsC 265. (Finding Aid).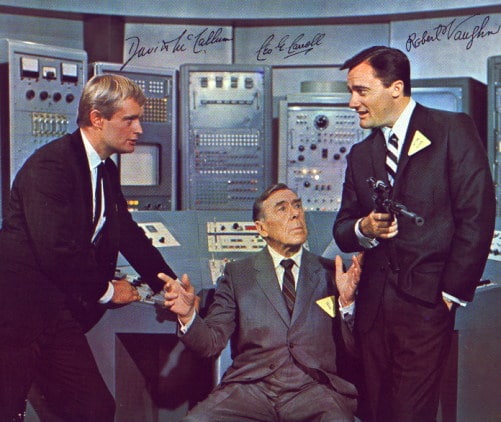 Norman Felton (1913- ). Educated University of Iowa. American television writer-producer who worked at CBS in the late 50s and early 60s before forming his own production company. His credits include Robert Montgomery Presents, Studio One, The Man from U.N.C.L.E., Dr. Kildare, and many others.
This large collection includes correspondence, general files, production files, and script material for a number of Felton's television series. The Man from U.N.C.L.E. is particularly well documented, with materials ranging from budgets to fan mail. There are also many produced and un-produced teleplays by Felton and others, including Garson Kanin, James Bridges, and Rod Serling.
Photo: Norman Felton Papers
The Beverly Barnes Fix Videotape Collection (40 feet).
Beverly Barnes, a student in Radio-Television-Theatre Arts at the University of Iowa 1937-1941, won a scholarship to Radio Station WLW in Cincinnati in her senior year. Moving to Hollywood a short time later, William Paley accepted her idea for an radio interview program which she wrote, produced, and emceed as hostess, "CBS Open House," broadcast on the west coast. Each program featured two or more personalities.
Mrs. Fix assembled a collection of 871 videotapes as the basis of a study of film history. Taped movies are the core of each tape, but documentaries, interviews, and other materials about actors, directors, writers, and others have also been added. Mrs. Fix presented the tapes with a 150-page descriptive inventory in 1999 and a second collection of some 500 tapes documenting the history of television in 2000.
The Susan Hill Fanzine Collection (4 feet) MsC401. (Finding Aid)
Collection of fanzines – mostly works of fan fiction, with particular emphasis on multimedia anthologies and on the British science fiction TV show Blake's 7.
Debbie Hoover Fanzine Collection (43 feet) MsC430. (Finding Aid)
Collection of fanzines – mostly fan fiction -, mainly from Star Trek but also from Highlander: The Series, Kung Fu: The Legend Continues, The Man From U.N.C.L.E., The Professionals, The Sentinel, Starsky and Hutch,and Star Wars.
The Celeste Hotaling-Lyons Fanzine Collection (21 feet)MsC400. (Finding Aid)
A collection of science fiction fanzines, primarily consisting of pieces of fan fiction, and a few related items, including some science fiction convention materials. The television shows and movies included in this collection are Angel, Blade Runner, Blake's 7, Buffy The Vampire Slayer, Crossover, Doctor Who, Due South, Forever Knight, Genzines, Heroes, Highlander: The Series, Sherlock Holmes, Man From U.N.C.L.E., Max Headroom, Multimedia, The Real Ghostbusters, Remington Steele, The Road Warrior, Robin of Sherwood, The Secret Adventures of Jules Verne, The Sentinel, Smallville, Stargate SG-1, Star Trek,,Star Wars, Wizards and Warriors,  and The X-Files.
Nicholas Johnson Papers (400 feet. MsC 240. (Finding Aid).
Writer, lawyer and lecturer, Johnson was born in Iowa City; took undergraduate and law degrees at the University of Texas at Austin; clerked with Chief Justice Hugo Black; taught law at Berkeley; and worked briefly for the Washington firm of Covington & Burling. Maritime Administrator in the Department of Commerce 1964-1966, he served as a Commissioner of the Federal Communications Commission 1966-1973. Deeply involved with television and radio policy during that time, much of his later career has continued this work. Biographical and other information can be found at Johnson's website, <https://www.nicholasjohnson.org/>.
Ralph M. Junkin Collection (4 feet). MsC 200. (Finding Aid).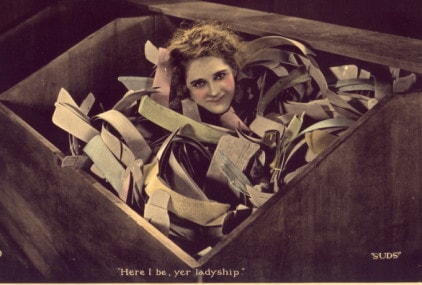 Ralph M. Junkin, with his wife, operated a silent movie house, The Majestic, in Vale, Iowa, and later houses in other Iowa towns during the 1910s and 1920s. From 1912 to 1914, the Junkins ran a touring show through Iowa. Junkin sold out when sound was introduced and became an electrician in Washington, Iowa, where he lived until his death in 1967. Throughout his life, he collected movie-related material as a hobby. His widow sold the collection to the University in 1969.  The collection consists of film stills (mainly from silent pictures), lobby posters, window cards, display posters, pressbook material, drawings, technical material and advertising cards.
Lobby card image: Mary Pickford in "Suds" (1920).
Keith/Albee Collection (25 feet). MsC 356. (Finding Aid).
Benjamin Franklin Keith and Edward Franklin Albee became partners in the late 1880s to promote "polite" vaudeville. Keith was the financial head of the circuit, while Albee was the general manager and owner of several theatres. In 1906, Keith and Albee established the United Booking Office, taxing acts that sought employment on the circuit. In the 1920s, the Keith/Albee circuit merged with a western chain of theatres to form the Keith-Albee-Orpheum Circuit, and in 1928 stock valued at $4.5 million was sold to Joseph P. Kennedy's Radio Corporation of American (RCA) to establish Radio-Keith-Orpheum (RKO). After this merger, motion pictures became the primary form of entertainment in Keith/Albee theaters, with vaudeville an accompaniment to the feature film.
Spanning the period 1890 to 1952, the collection is more deeply concerned with vaudeville than film, but the subject files, manager's report books, clipping books, and cash books document the transition from live popular theater entertainment to motion pictures. For a description of the collection, see M. Allison Kibler, "The Keith/Albee Collection: The Vaudeville Industry, 1894-1935."
Barry Kemp Collection (30 feet). MsC 495. (Finding Aid).
Barry Kemp (1949- ). Born Hannibal, Missouri, educated University of Iowa. American television writer and producer. Kemp was a writer and executive script consultant for the television series Taxi, and was nominated for both the Emmy and Writer's Guild awards. By 1982, Kemp was an executive producer for MTM Enterprises, writing the pilot for "In Security" and creating The New Bob Newhart Show – later Newhart – early in his tenure there. Since 1987, his Bungalow 78 Productions has launched a number of situation comedies for Universal including Coach and Delta. The Barry Kemp Collection contains 144 first draft and final scripts consisting of a miniseries and 90 episodes of seven weekly television series for which Kemp has served as creator and/or writer or producer. The materials for the program Coach are the most extensive. Supplements to this collection, television scripts and episodes on video tape, are added yearly.
Richard Maibaum Papers (19 feet and 40 boxes of models). MsC 149. (Finding Aid).
Richard Maibaum (1909-1991): born New York City, educated University of Iowa. American screenwriter, producer, actor. Maibaum had a brief career as a Shakespearean actor on Broadway before moving to Hollywood in the 1930s where he was employed by M.G.M. as a screenwriter. In 1942, Maibaum joined the U.S. Army and produced morale films. After the war he became a producer and screenwriter at Paramount. He is perhaps best remembered for his "James Bond" screenplays.
Divided into six sections, the Maibaum collection consists primarily of screenplays and treatments, publicity, clippings and research related directly to specific stage, film or television projects. There are materials for both produced and unproduced works. The "James Bond" series is one of the most extensive. It includes notes, sketches, screen treatments, screenplay drafts,and final scripts. The series also includes correspondence, publicity, photographs, and clippings. The biographical series contains correspondence, interviews and various subject files. The final series is made up of all manner of research and historical data used by Maibaum in his writings. A 1994-2006 addenda to the Maibaum collection, courtesy of Matthew Maibaum, Maibaum's son, consists of over 100 plastic replicas of props used in various Maibaum productions, with a descriptive catalog detailing each item.
David McCallum Fan Club Materials. (30 feet). MsC 895. (Finding Aid #1). (7 feet). MsC 910. (Finding Aid #2).
The Lynda Mendoza Collection consists of materials concerning the actor David McCallum and his performing career, particularly the television show that made him famous – The Man From U.N.C.L.E. (1964-1968). Materials include correspondence, press clippings, realia, posters, photographs, and audio recordings, among others. The Laura Leach Collection consists largely of  "slash" fan fiction (sexually explicit, and same-sex stories that explore the close professional relationship between U.N.C.L.E. agents Napoleon Solo and Illya Kuryakin in romantic and/or explicitly sexual relationship stories.
Marion Meade – Buster Keaton Archive (10 feet). MsC 512. (Finding Aid).
Biographer Marion Meade was commissioned to write a biography for the centenary of Buster Keaton's birth in 1895. She spent four years researching Keaton, interviewing people who knew or worked with him, locating photographs, and writing Buster Keaton: Cut to the Chase (HarperCollins, 1995). This collection consists of Meade's research files and interview tape recordings.
Marion Meade-Nathanael West and Eileen McKenney Archive (10 feet) MsC914 (Finding Aid)
Research materials for the book Lonelyhearts: The Screwball World and Eileen McKenney.
Marion Meade – Woody Allen Research Files (10.5 feet) MsC861 (Finding Aid)
Research material for The Unruly Life of Woody Allen. Comprised of interviews by letter and on tape, journal articles, research files, notes, films, photographs, manuscript copies, and copies of the completed book in various editions.
Robert Metzler "Colombo" Diaries, 1973-1977 (.5 feet). MsC 97. (Finding Aid)
Writer and producer Robert Metzler was hired in March 1975 to work on the NBC television series "Colombo" starring Peter Falk. He continued on the show into 1977, making near daily diary entries that record behind-the-scenes activity in great detail.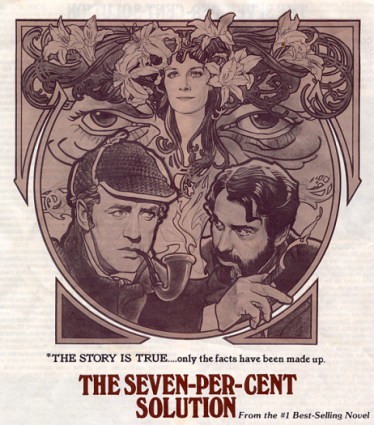 Nicholas Meyer Papers (15 feet). MsC 425. (Finding Aid).
Nicholas Meyer (1945- ). Born New York, educated University of Iowa. American screenwriter and director whose first film project was the adaptation to the screen of his own novel, The Seven-Percent Solution (1976). Additional credits include Time After Time (1979), Star Trek II: The Wrath of Khan (1982), the controversial television movie The Day After (1983), and Volunteers (1985).
Documenting Meyer's career as a writer, this collection includes notes, drafts, treatments, journals, etc., on various realized and unrealized projects, including The Seven-Percent Solution (novel and screenplay) and Time after Time. It also contains correspondence and general files, as well as, to a lesser extent, production materials, posters, scrapbooks, etc., for Meyer's films. as well as a number of articles, essays, stories, and reviews written by Meyer since the early 1970s.
Frank T. R. Minckler Music Library (25.5 feet). (Unprocessed).
Minckler was a musical "presence" in Centerville, Iowa for a long period of time and is known to have conducted virtually all performances that accompanied silent films shown in the Majestic Theater. This collection of sheet music is mostly marked "Minckler Library," and many items are annotated to reflect passages selected for performance, passages deleted, etc.  It was received in no discerable order.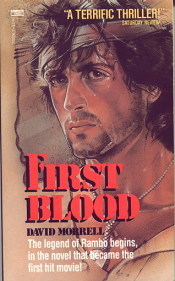 David Morrell Papers (10 feet). MsC 478. (Finding Aid).
Born in Ontario in 1943, David Morrell was awarded a PhD in American literature by Pennsylvania State University in 1970. He taught at Iowa from 1970 to 1986, retiring to pursue a career as a fiction writer. Perhaps best known for Rambo, the central character of his 1972 novel First Blood, which lead to the Rambo films starring Sylvester Stallone, Morrell has written numerous novels as well as screen- and teleplays. The growing collection of his papers includes video and audio tapes as well as research notes and manuscripts.
Image: 19th printing, June 1988, of the Fawcett Crest paperback edition.
National Citizens Committee for Broadcasting, 1967-73 (24 feet) MsC 459. (Finding Aid)
Subject files, correspondence, photographs, clippings and other records relating to this advocacy group.
Charles & Ryan O'Neal Papers (4 feet). MsC 360. (Finding Aid).
Charles O'Neal (1904-1996). Born Raeford, North Carolina, educated University of Iowa. American motion picture and television writer and novelist. His credits include Return of the Badmen (motion picture) and Three Wishes of Jamie McRuin (novel). Father of actor Ryan O'Neal.
Ryan O'Neal (1941- ). Born Los Angeles. American television and motion picture actor. Known for his role in the television program Peyton Place.
The Charles O'Neal Papers span the years 1942-1982 and are divided into two sections: The Charles O'Neal Papers (12 boxes) and the Ryan O'Neal Papers (4 boxes). The Charles O'Neal Papers consist of screenplays and teleplays written by O'Neal and others; typescripts of the O'Neal novels The Thirty-Second Day, written with Victor Trivas, and The Three Wishes of Jamie McRuin; general correspondence 1973-1979; and advertisements and promotions for The Three Wishes of Jamie McRuin as well as correspondence concerning film and television rights and reprintings of the novel.
The Ryan O'Neal Papers contain episode scripts (numbered 258-346) from the years 1966-1967 of the television program Peyton Place.
Organization for Transformative Works Fanzine and Fan Fiction Collection (4.5 feet) MsC 320. (Finding Aid)
Collection of science fiction and other genre fanzines, pieces of fan fiction, and related fannish artifacts donated by various fans through the cooperation of the Organization for Transformative Works, established to preserve the history of fanworks and fan culture. Movies and TV programs dealt with in this collection include Alias Smith and Jones, Alien Nation, Angel, Angell/Buffy the Vampire Slayer, Blake's 7, Buffy the Vampire Slayer, Due South, Flatliners, Hercules, Highlander: the Series, Kung Fu: The Legend Continues, Lord of the Rings, MacGyver, The Man From U.N.C.L.E., MASH, Miami Vice, Oz, Quantum Leap, The Rat Patrol, The Real Ghostbusters, Renegades, The Sentinel, Simon & Simon, Stargate SG-1, Star Trek, Voyage to the Bottom of the Sea, and the X Files.
Radio-Television News Directors Association Records (100 feet). MsC 490. (Finding Aid).
Established in 1946 as the National Association of Radio News Editors — quickly renamed the National Association of Radio News Directors — this organization became the Radio-Television News Directors Association in 1952. RTNDA established standards for radio and television news broadcast, fought for recognition of the value of news reporting from both government and the industry, and battled for freedom of information. This large archive documents the RTNDA from its beginnings to the present, with materials added regularly.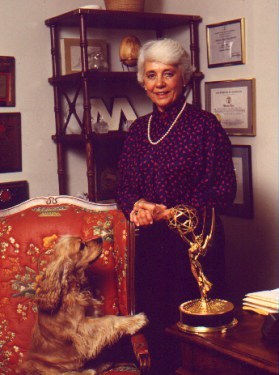 Marian Rees and Marian Rees Associates Papers (150 feet). Iowa Women's Archive. (Finding Aid).
Marian Rees was born in Le Mars, Iowa, educated University of Iowa (BA 1951). She went to Hollywood in 1952 and worked her way from receptionist to award-winning producer and then president of her own television production company.
In 1959, Rees was named associate producer for Bud Yorkin on "An Evening with Fred Astaire" and worked with Yorkin and Norman Lear at Tandem Productions for 15 years. In 1973, she joined Tomorrow Entertainment and in 1981 founded her own company which by 1997 had produced 22 made-for-television movies. Her films have won 11 Emmy Awards and 36 Emmy nominations as well as two Golden Globe Awards, six Christopher Awards, the Humanitas Prize, a Peabody, two Gabriel Awards, two Monte Carlo Television Awards, and other industry and public honors.
Rees has been widely recognized for her contributions to professional and civic organizations. In 1988, she was elected president of Women in Film, a position she held for two terms. She received the 1990 Woman of the Year by Women in Management; the YWCA Achievement Award; the 1998 Genii Award; the University of Iowa Distinguished Alumni Award; and has served on the boards of many philantrophic organizations.
The Marian Rees Papers document her professional and philantrophic activities from 1979 to 1995 and measure 31 linear feet. The Marian Rees Associates files, 1981-1995, measure 120 linear feet and are arranged in 21 series, one for each of the films produced during this 14 year period. The collection includes scripts, publicity, contracts, correspondence, reviews, photographs, posters, and videotapes for each of the films.
Image: Rees in her Studio City office with 1986 Emmy Award fpr Special Love Is Never Silent.
Arthur Ross Productions (13 feet). MsC 127. (Finding Aid).
Arthur Ross: American film and television writer. Credits include: Okinawa (1952), Harold Lloyd's World of Comedy (1962), The Great Race (1965), etc.
Consisting of 21 boxes of written materials, nine notebooks and one oversized drawer, the Ross collection includes his screenplays, television scripts and fiction. Items of particular interest include drafts and sketches for The Great Race, teleplays for The Alfred Hitchcock Hour, nine boxes of photographs from a number of motion pictures and three phonographic disk recordings of "Suspense" radio programs.
Save "Farscape" Auction Collection (3 feet) MsC371. (Finding Aid)
Collection of items assembled for a fan auction to help fund the campaign protesting the cancellation of the science fiction television series Farscape.
Script Ephemera (2.5 ft) MsC852. (Finding Aid)
The core of this collection is made up of scripts submitted for consideration for Best Screenplay in 2000. Other scripts have been added, and will continue to be added as they are received. Other materials, such as publicity kits and "the making of" books are included here.
Sondag Beauty and the Beast and Ron Perlman Collection (10 feet) MsC923
Fan materials for this late 1980s television drama.
Stewart Stern Papers (10 feet). MsC 440. (Finding Aid).
Stewart Stern (1922- ). Born New York, educated University of Iowa. Film and television writer. After a brief career as an actor, Stern wrote his first screenplay, Teresa, which was nominated for an Academy Award in 1951. His subsequent films have included Rebel Without a Cause (1955), Rachel, Rachel (1968), Summer Wishes, Winter Dreams (1973), and the highly acclaimed television production of Sybil (1976).  The collection consists of personal papers and correspondence, scrapbooks, photographs, sketches and posters, as well as a variety of professional papers relating to Stern's many writing projects. These include research notes, casting lists and workbooks, as well as a variety of screenplay drafts for Stern's completed films. In addition, there is a great deal of script material relating to un-produced projects.
Phil Stong (2 feet). MsC 705. (Finding Aid).
This collection consists primarily of manuscripts for Stong's books for children. He is best remembered, however, for his State Fair, and film scripts dated 1945, 1961 and 1962 are here.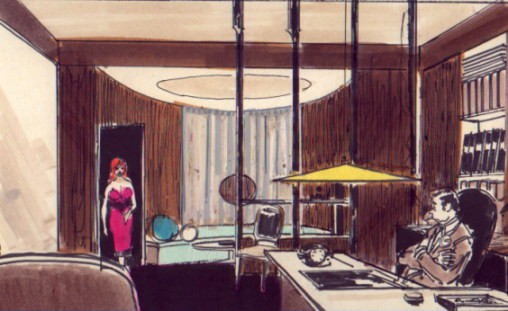 David Swift Productions (8 feet). MsC 125. (Finding Aid).
David Swift (1919- ). Born Minneapolis. Radio, television, and motion picture writer-producer-director whose films include Pollyanna (1960), The Parent Trap (1961), The Interns (1962), Love Is a Ball (1963), Under the Yum Yum Tree (1963), Good Neighbor Sam (1964), How to Succeed in Business Without Really Trying (1967: wrote, produced, directed).
The collection consists of 12 boxes containing written materials and four oversized drawers containing production sketches and designs. The written materials include scripts from the television series Grindl, Camp Runamuck, and Mr. Peepers, as well as a number of single scripts for dramatic series. Also included are scripts in various drafts for most of Swift's films, along with production information. Housed in the oversized drawers are costume sketches, set designs and storyboards for the motion picture How to Succeed in Business Without Really Trying.
Image: Set design of Gatch's offfice for How to Succeed in Business Without Really Trying.
Twentieth Century-Fox Script Collection (200 feet). MsC 302. (Finding Aid).
An American film production and distribution company founded in the early days of cinema by William Fox. In 1935, Fox merged with Darryl F. Zanuck's Twentieth-Century Pictures to form the Twentieth Century-Fox Film Corporation.
The collection consists primarily of script material on nearly 1500 Twentieth Century-Fox titles spanning the years 1929-1971. These titles are arranged alphabetically within the collection and are likewise listed in the finding aid. The materials include drafts screenplays as well as dialogue and cutting continuity scripts. Some films are represented by a large amount of material, including several draft screenplays, while others are represented by a single item. Ranging from The Diary of Anne Frank to Gentlemen Prefer Blondes and Days of Wine and Roses, many of the pictures are well-known Hollywood fare. Just as important, however, the collection allows students a chance to explore the standard product of a working Hollywood studio. Although the collection is not complete, it provides an excellent sample of the kinds of pictures produced by Twentieth Century-Fox. In addition, there are three boxes of material relating to exhibition and Twentieth Century-Fox Film Corporation.
Victor Animatograph Co. (16 feet). MsC 153. (Finding Aid).
Alexander Victor (1878-1961): born Sweden, came to U.S. in 1901. Victor was interested in motion pictures, and with the encouragement of his friend Thomas Edison, became an inventor. He founded Victor Animatograph Co. in 1910, in Davenport, Iowa. The company was concerned mainly with still picture projectors. Victor Animatograph was responsible for a number of important developments in the technique of film, including non-flammable acetate-based stock, safety trips to prevent film damage, and a device to reduce 35mm optical sound directly to 16mm. Victor eventually sold his share in the company, and in 1956 it was moved to Plainsville, Connecticut, as a subsidiary of the Kalart Company, where it continued to make projectors under the name Kalart/Victor. For a biographical article on Victor see Alexander Victor.
There are 20 boxes, 23 scrapbooks and one file cabinet of material in this collection. The main part of the collection consists of company information: files, lab reports, clippings, record books, stockholders' ledgers, catalogs, etc. Scrapbooks contain photographs of various Victor Animatograph projectors, cameras and accessories.
Watchers of CIS Collection of Highlander Fan Materials (1.5 feet) MsC 333. (Finding Aid)
Collection of fan materials, particularly fanzines, relating to the Highlander media franchise of movies and television shows. (CIS stands for Compuserve Infornation Systems – a proprietary online service [the first to offer Internet connectivity, starting in 1989] that provided access to e-mail and online forums before the advent of HTML-coded websites.)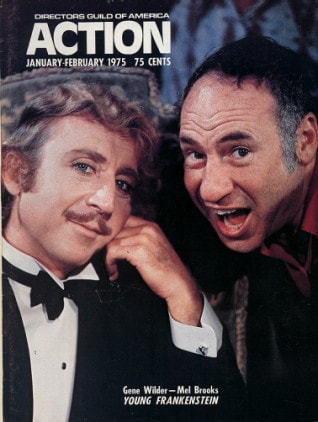 Gene Wilder Papers (5 feet). MsC 526. (Finding Aid).
Actor, film star, writer, director and producer; Young Frankenstein, Blazing Saddles and many other films and tv appearances. Born Milwaukee, 1933; University of Iowa Alumnus, 1955. Papers include scripts and script drafts, correspondence, and a group of photographs.
Albert Zugsmith Collection (.5 foot). MsC 196. (Finding Aid).
Born Atlantic City, New Jersey, 1910, educated University of Virginia. American film producer and director. Worked with International Broadcasting Corporation, founded Albert Zugsmith Corp., a large publishing house for radio and television periodicals. President of World Printing Corp. and then American Pictures Corp. In 1950, Zugsmith assumed production responsibilities, forming Universal-International. However, after a crisis forced Universal-International to give up its studios, Zugsmith retired from the company, organized a firm of his own, and began to act as director as well as producer. The collection consists of one box of script materials ranging from shooting schedules to screenplays.
Compiled by Kristin Thompson, Spring 1972; updated by Barbara Hall, Fall 1985; Kerry Shermer, Fall 1994; S. Huttner, March-April 1999-2003 et seq.