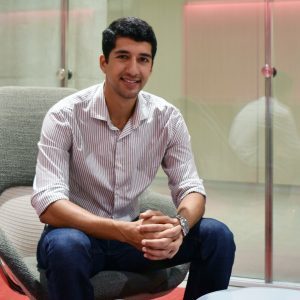 Through the 2015 We Are Phil campaign, UI Libraries staff raised enough money to fund a new UI Libraries Student Employee Scholarship.
In its inaugural year, Ghyas Zeidieh is one of two UI Libraries student employees to win the scholarship. Zeidieh was nominated by the Rita Benton Music Library, located in the Voxman School of Music and serving the entire campus and community with scores, recordings, book and online resources, scholarly journals, and the Canter Rare Book Room, which houses rare primary source materials.
Ghyas Zeidieh is a graduate student pursuing a doctoral degree in musical arts in cello performance. He has been working at the Rita Benton Music Library for nearly three years and enjoys sparking students' interest through conversation and opening windows to their research.
Through his experience at the Music Library, Zeidieh has learned to help library users make their research time more efficient by teaching them to find quality, specific information.
Before working at the Music Library, Zeidieh noticed the high skill levels of the staff there. "Dr. Amy McBeth is very knowledgeable, and I wanted to be knowledgeable like her in order to help others."
For Zeidieh, receiving the UI Libraries Student Employee Scholarship means he is one step closer to owning his own cello. "For musicians, our instrument is our tool, our means to give back to society." After earning his degree, Zeidieh plans to perform and to teach high school students through an after-school program for youth who otherwise would be unable to afford to learn music.