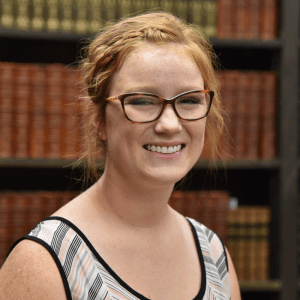 Through the 2015 We Are Phil campaign, UI Libraries staff raised enough money to fund a new UI Libraries Student Employee Scholarship.
In its inaugural year, Stacy Garrard is one of two UI Libraries student employees to win the scholarship. Garrard was nominated by Special Collections, a unit within the Libraries that specializes in rare primary source material, including books, prints, artifacts, brochures, photographs, recordings, and more.
Stacy is a sophomore majoring in speech and hearing sciences. She works in Special Collections where she enjoys looking at the historical pieces of art, literature, and letters, as well as assisting patrons with general inquiries and in-depth research.
Stacy feels honored to be a recipient of the UI Libraries Student Employee Scholarship, given the many students who work at the Libraries. "Working in Special Collections is one of my favorite parts of being at the University of Iowa," she says.
In addition to benefitting from the financial assistance the scholarship provides, Stacy also values the opportunities to build skills she'll need as she moves toward pursuing a doctoral degree in audiology. "Working the front desk in Special Collections means learning how to find different ways to find answers to people's questions. I'm gaining people skills and learning to be more flexible in my thinking."