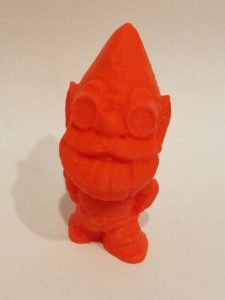 Different levels of 3D Printing services are available through the Engineering Library, Engineering Electronics Shop, and Electronics Machine Shop.
Engineering Library
Generously provided by the Engineering Electronics Shop as a pilot program, the Makerbot Replicator Mini is connected to the HTC Vive Station. Using the MakerBot Print software print models up to 4″ x 4″ x 5″
Full details on the MakerBot Replicator Mini can be found on the Prototyping page
Engineering Electronics Shop
The Engineering Electronics Shop offers consumer-grade 3D printing on MakerBot 3D printers for $0.20/gram for all university faculty, staff, and students. Colors available are Black, White, Red, Orange,Yellow, Green, Blue, Purple, Warm Gray, and Cool Gray.

2018 Seamans Center
319-335-5760
eshop@uiowa.edu
To learn more please visit Engineering Services webpage.
Engineering Machine Shop
The Engineering Machine Shop (EMS) is a modern version of the classic machine shop that includes computer-literate staff, machines, and methods alongside traditional manufacturing equipment and procedures. They offer Advanced additive printing of parts by optimizing resolution, slicing, materials, and build orientation with the use of commercial grade 3D printers. EMS provides concept development, project design, and prototyping services for University of Iowa students, faculty, researchers, and staff. The EMS staff strengths are computer-aided design and manufacturing skills that support the college teaching and research missions, as well as providing services for administrative and research users across campus. As students get the necessary training, they have access to the tools and equipment in the facility.
Submit files for Engineering Machine Shop Services
G450 Seamans Center
319-384-0790
ems-contacts@engineering.uiowa.edu
To learn more please visit Engineering Services webpage.