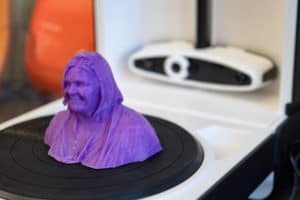 The Creative Space features 4 different types of 3D Scanners.  Each of these scanners are slightly different in the ranges in which they are able to scan.
Scan Ranges:
Matter & Form: Up to 9.8"
Shining 3D: Single Scan Sizes 8″ x 5″ – 12″ x 8″
Structure Sensor for iPad: starting at 15"
Xbox Kinect: starting at 48"
Matter & Form Scanner is located Northwest Corner of the Creative Space within the Lichtenberger Engineering Library (2001C SC)
All other scanning equipment may be checked out for one week from the Tool Library at the Service Desk.